Cerca Alabang - Preselling Condominium
Premium project of Alveo Land in Alabang Muntinlupa Metro Manila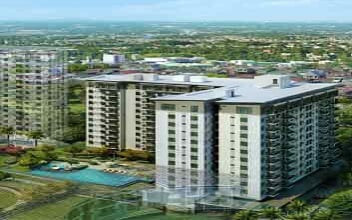 Project Type : Condominium
Listing Type : Preselling
Developer Name : Alveo Land
Units : Studio, 1 BR, 2 BR, 3 BR
Price: ₱ 6,500,000 & Up
Address : Alabang, Muntinlupa City
Location : Muntinlupa , Metro Manila PH Cerca Alabang Alveo Land Cerca Alabang Cerca Alabang Alveo Land Cerca Alabang Muntinlupa
https://cercaalabangalveo.phproperty.com/
With lush landscaping, natural habitat, and distinct design, that cater to the privileged few, experience a daily dose of resort-like living at the Cerca Alabang, a marvelous enclave in Muntinlupa City bearing the Alveo brand.

This immaculate haven with modern architecture and seemingly endless lush landscaping located south of Manila is a sterling exit from the usual concrete and steel construction dominating the urban jungle of Metro Manila. The Cerca Alabang has the presence of earth-toned structures, medium-rise buildings sprawled on a 6.6-hectare of pristine land near the Alabang-Zapote Road and just across the Madrigal Business Park, Park Trade center, and the Yupangco Bldg. The pure natural geography, integrated with classic and with a modern twist of man-made marvels, truly reflect a genuine abode that glorifies nature. The site has wide open spaces characterized by natural lush greens and low-density living making it the perfect environment for warm and gentle mood and an ideal place to rear families without sacrificing modern living. This momentous condo for sale in Muntinlupa City is really not your usual conventional vertical community.

The Cerca Alabang is a condo community for sale in Muntinlupa City carrying the Alveo quality of living. The site is specifically located along Investment Drive, corner Alabang-Zapote Road, Alabang, Muntinlupa City. This address is less than 3km away from the southbound lane of the SLEX and about a kilometer away from the Alabang Center and Filinvest Corporate City. The project is composed of more than 10 mid-rise residential buildings with 10-12 floors each building.

The buildings are arranged in phases and at the center is an amenity area equipped with a marvelous collection of lifestyle-changing facilities and a wide array of recreational amenities the family could enjoy every day, no matter if it is a holiday or not. Cerca Alabang has numerous stylish condo units that come in Studio (24sqm), 1-BR (48sqm), 2-BR (74sqm), and 3-BR (100sqm) well-appointed residential suites that have precise design and construction layout that will never be outdated for many generations to come.

Cerca Alabang Muntinlupa City is a certified wonderland of an enclave that has attention to details, bountiful natural light and fresh air that reflect on every unit's floor-to-ceiling windows, and larger-than-life residential suites that give priority to every family's space requirement. Take for example a 3-BR unit's floor area distribution, which has this following area allocation: Living/dining area, 26sqm; Master Bedroom, 16sqm; Master Bedroom T&B, 5sqm; Bedroom 1, 15sqm; T&B (bedroom 1), 3sqm; Bedroom 2, 12sqm;, Storage, 1sqm; Hallway, 6sqm; Kitchen, 7sqm; Utility Room, 5sqm; T&B (common) 2sqm; and Balcony, 5sqm, for a total floor area of 100sqm. This attention to breathing spaces is virtually priceless and timeless. While there are also ample spaces for singles or couples, each proportioned floor area corresponds to every need. At the Cerca Alabang, you ought to waste only the bad times with an everyday dose of happy times.

Alveo Land, Cerca Alabang, Condo for Sale in Alabang, Philippines. For price list, model house, floor plans, payment terms, CHAT LIVE with an agent 24x7. If you're looking to find Alveo Land, Cerca Alabang for Sale, then check here first. We have full details of Alveo Land, Cerca Alabang for Sale updated regularly. Everything you need to know about Alveo Land, Cerca Alabang Condo buying process, broken down into stages. Includes selecting a unit, choosing a payment plan and buying your dream home at the right price.

Popular Links
Cerca Alabang
Cerca Alabang Location
Cerca Alabang For Rent Units
Cerca Alabang Resale Units
Cerca Alabang Pre-Selling Units
Cerca Alabang Showroom
Cerca Alabang Amenities
Cerca Alabang Price
Cerca Alabang Contact
Cerca Alabang Alveo Land For Sale Price List

| Unit Name | Project Name | Developer | Price (₱) | Location |
| --- | --- | --- | --- | --- |
| Studio Unit | Cerca Alabang | Alveo Land | 6,500,000 | Alabang in Muntinlupa, Metro Manila |
| 1 Bedroom | Cerca Alabang | Alveo Land | 10,600,000 | Alabang in Muntinlupa, Metro Manila |
| 2 Bedroom | Cerca Alabang | Alveo Land | 15,300,000 | Alabang in Muntinlupa, Metro Manila |
| 3 Bedroom | Cerca Alabang | Alveo Land | 19,700,000 | Alabang in Muntinlupa, Metro Manila |